Merry Christmas!!!!
Holidays are the busiest time for most people, but especially so for us music teachers! I have several programs and choir performances to direct over the next two weeks in addition to trying to keep up with my antiques business and family Christmas celebrations. I have been decorating non-stop since Thanksgiving and I have finally gotten to a place where I can sit down and find enough time for a small post.
These are some of my favorite instagram pictures from around the house this Christmas. Enjoy!
Welcome to The Ferguson's Christmas home!
It really is my old Kentucky home, and it really is a cozy cottage, especially at Christmas. I hope you find it cozy as you read!
I love Santa. I'm pretty sure.
And I love vintage Christmas, as I am sure most everyone already knows, (including Santa, which is always good since he can bring me more vintage stuff to make me very merry.)
Here is how I used my vintage Christmas goodies last year:
http://junkaholicsunanimous.blogspot.com/2011/12/merry-very-vintage-christmas-sneak-peak_10.html
http://junkaholicsunanimous.blogspot.com/2011/12/two-weeks-before-christmas-open-house.html
I am going to have to say that this Santa is the epic flea market find of Summer 2012. Did I mention that I collect vintage Santas? Did I
need
to mention that? Is "collect" the right word?
I happen to "collect" Santa's little helpers too!
I love incorporating elements of Christmas through the ages. This tree has ornaments from the early 1900's-1950 and a few old-world inspired handmade ornaments as well.
My little boy made these cinnamon ornaments all by himself with only minor assistance from me. I love them! They smell so good and they are dear to my heart!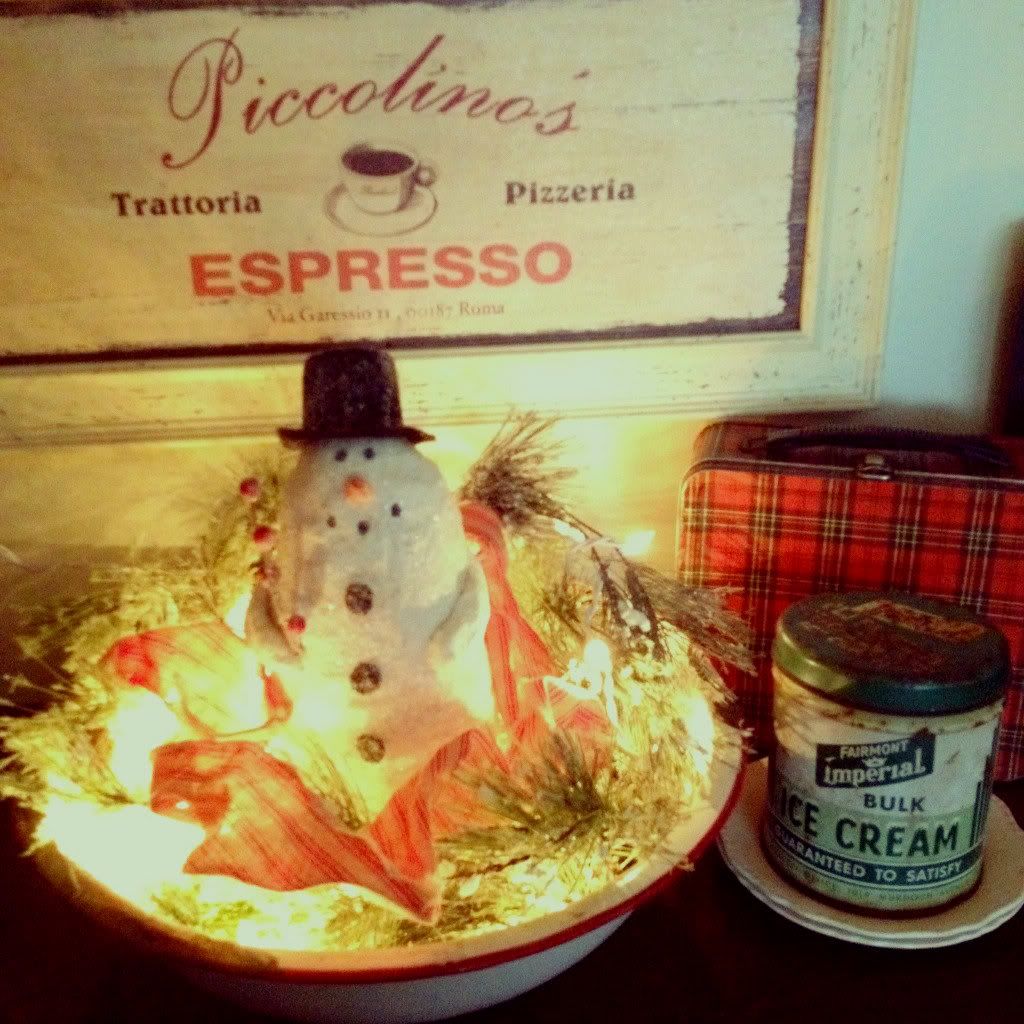 Vintage red-rimmed enamelware and plaid items just go together with Christmas. An old ice cream canister adds to the wintry display.
My magic snow globe reveals whatever Christmas wish I may have.
I am obviously wishing for more grain sack...
I call this the "I'll Be Home For Christmas" vignette. I used my grandfather's war letters bundled up with some vintage Christmas stamps and displayed on my beloved Remington 1912 typewriter. My grandfather was a stenographer in the Korean war so I think this all came together perfectly even though it was spontaneous. Christmas magic!
Our artificial tree is over 9 feet tall and its nearly impossible for me to get a picture of the whole thing due to its position in the dining room. This year I changed it up a bit and added a lot more red and a candy cane/vintage theme instead of my browns and amber hues from the past several Christmases. I kept the burlap garland from last year but I added an ivory tulle garland and I love the juxtaposition of rustic and dreamy textures.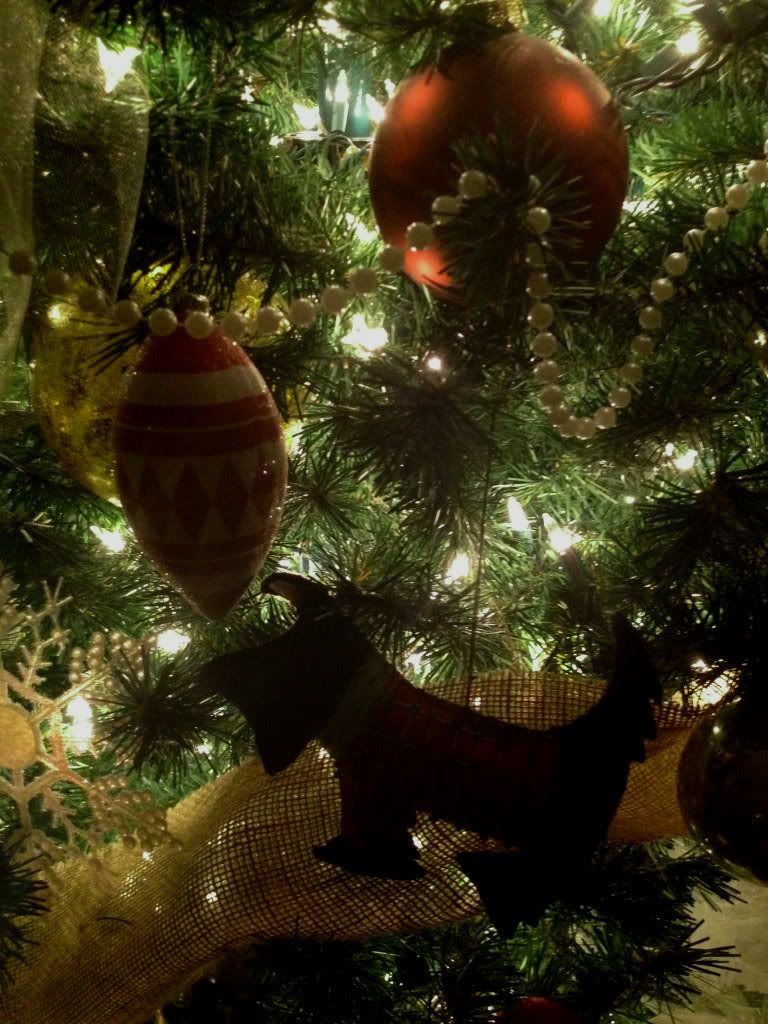 We have two wonderful Scottish Terriers, so you will always find some Scotty accents around the house at Christmas.
This morning I found that my holly bush had finally produced berries. How festive! I created this bouquet. By the evening I had tweaked it even more and added some bling.
Simply Christmas display: The warmth of a candle displayed on an ironstone platter, surrounded by old lace and fresh cut pine.
Oh to have some snow! Since its not looking like we will see any this Christmas, I decide to create a whole wintry white scene on my buffet that will last through February with just a little tweaking. The chalkboard is a project my sweetie and I completed together. Being too impatient to use a transfer or downloadable graphic, I had my artist-husband help me free-hand some of this chalkboard lettering. It is our own design and each of us worked on the different words. I love the old 1800's frame that I found at a flea market for $5.00 back in the spring. Followers may recognize it as the one I had "framing" a mannequin in my antiques booth for a while..I am so glad it didn't sell because it made a perfect chalkboard frame, especially for a "white Christmas" display!
Wishing YOU the season's joy, dear blogging friends of mine! Have yourself a Merry little (vintage) Christmas!
*If this is your first time visiting my blog, I encourage you to check out some of my past posts. This is certainly not one of my better posts in terms of photography and presentation, but I have been struggling to wrap my mind around what we have just experienced. My prayers go out to all those suffering in this great time of tragedy in our country and also in China where a similar event occurred this week. May God's light and comfort be with us all and especially with those families who lost their dear loved ones and may we all find the peace of Christ this Christmas.
Christ Parties:
http://knickoftimeinteriors.blogspot.com/2012/12/knick-of-time-tuesday-65.html
http://www.commonground-do.com/
http://frenchcountrycottage.blogspot.com/2012/12/feathered-nest-friday_20.html?utm_source=feedburner&utm_medium=feed&utm_campaign=Feed
:
http://thecharmofhome.blogspot.com/2012/12/home-sweet-home-98.html?utm_source=feedburner&utm_medium=feed&utm_campaign=Feed: TheCharmOfHome (The Charm
of Home)
http://fadedcharmcottage.blogspot.com/
http://knickoftimeinteriors.blogspot.com/