As those of you who have been following along are aware, I have been dealing with chronic autoimmune issues that have really hindered my ability to decorate as I normally do. I was not able to get into my Easter storage this year because I have just been too sick and in too much pain to handle it, so I had to use what I already had around the house and I really loved the end result. I didn't have time to charge my camera so I had to take the pictures with my iphone, (lighting is an issue anytime of the day in our house so they aren't the best quality) but I wanted to try to get a blog up nevertheless.
I am really considering getting rid of some of my old Easter decorations that are in storage unless they are particularly sentimental. The look of natural spring elements for Easter is so much more appealing than mass produced decorations and looking for things to use from around the house in new and creative ways is like a treasure hunt. Luckily I did have a few little things left here at the house within easy reach, and some of my large eggs were outside in a storage bin that were easy to access as well. Here is what I came up with...
I found this sweet little Easter card featuring daffodils in my downstairs stash of vintage ephemera. My favorite childhood picture is in the background, a memory of Easter at my grandparent's house.
I got started with my decorating by simply tweaking the mantel. I love how my everyday ironstone and salvaged pieces provided a sweet cottage style foundation for my displays this year and all I had to do was add a few seasonal elements.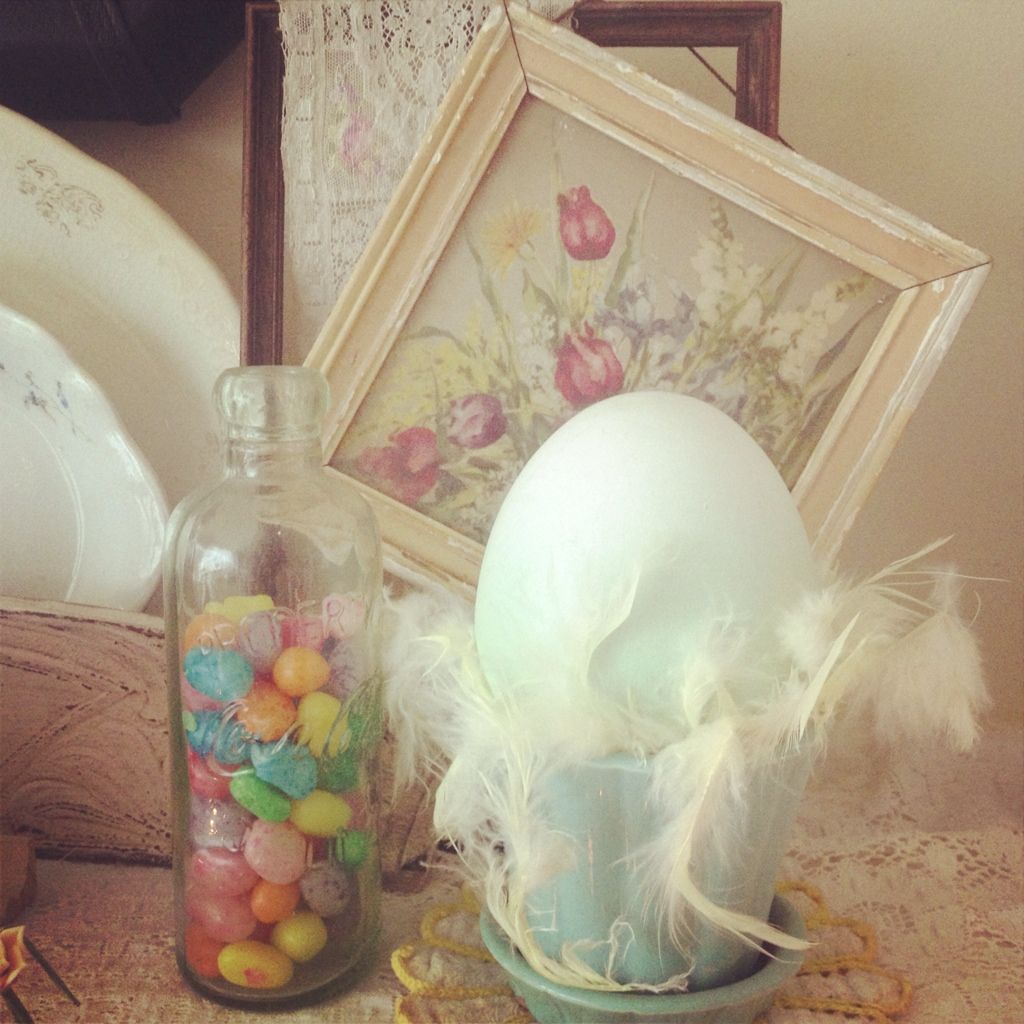 I have a small collection of pastel McCoy pots that worked perfectly on the mantel. I needed some eggs of some sort and I wasn't about to get into storage. Luckily I found three shabby chalkware eggs at a thrift shop. The sweet feathers came from a specialty shop.They are such a chic alternative to plastic grass.
The Peter Rabbit pop-up book belongs to my nineteen year old. I have kept it on the bookshelf since he was little so it was easy to get to. Salavage architectural elements in spring hues help anchor the vignette.
However creative I try to get with my centerpieces, I couldn't miss a chance to go a bit traditional and display some tulips as a focal point. Instead of simply using the tulips in a vase, I filled a crate full of spanish moss, eggs, and vintage-springy things. I found this ironstone platter back in the fall and I have been looking forward to spring so I could display it. It has a Dutch scene with fields of tulips in the backround, my favorite flower!
It was very hard to get good pictures with my iphone due to brightness, but the light streaming in made it feel springy even if it was cold outside! Over the course of the week I changed my centerpiece adding colored eggs, and a little picket fence planter. I also replaced my tulips as the yellow ones faded.
Sunny Easter cottage.
Easy cake stand turned cloche. Traditional dyed eggs, grass with a little white bunny in the center. Some of my favorite books add visual interest and tie in the theme of a cottage decorated and inpsired by spring and gardens.
I wanted something different that I hadn't seen on Pinterest or blogs for my chalkboard. Instead of script, I chose a giant Easter egg. Fun!
Ready for church.
Luke 24:5-8 The angel speaks: "Why do you look for the living among the dead? He is not here; He is risen!"
Hope you had a great Easter and that spring will bring beautiful things to your way!
Spring Parties!