2014 update: Hello all! We are having some real winter weather here in Eastern KY. I have been battling every day since Christmas with Lyme Disease and haven't been able to get a January post up so I thought I'd share my winter décor from last year. Maybe I can get this year's post done tomorrow. Hope you are keeping cozy wherever you are!


Original Post


A warm winter welcome to you!
It's February but I'm still dreaming of a "white winter..."
I'm making snow wishes each night...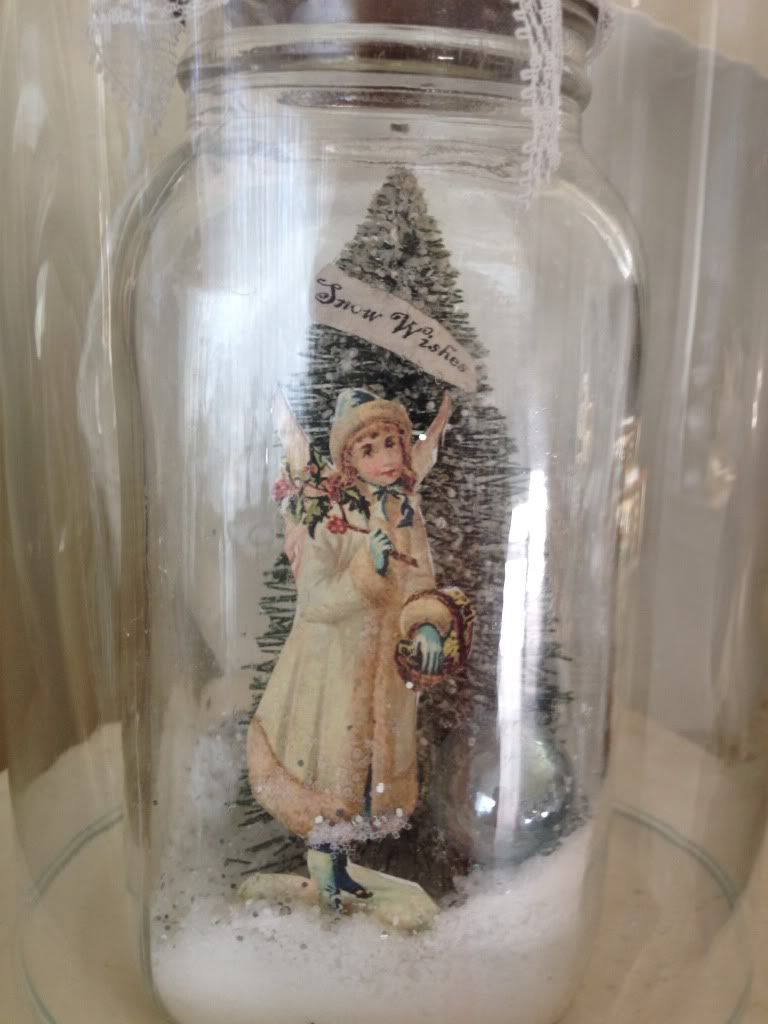 with hopes to see snow covered pines...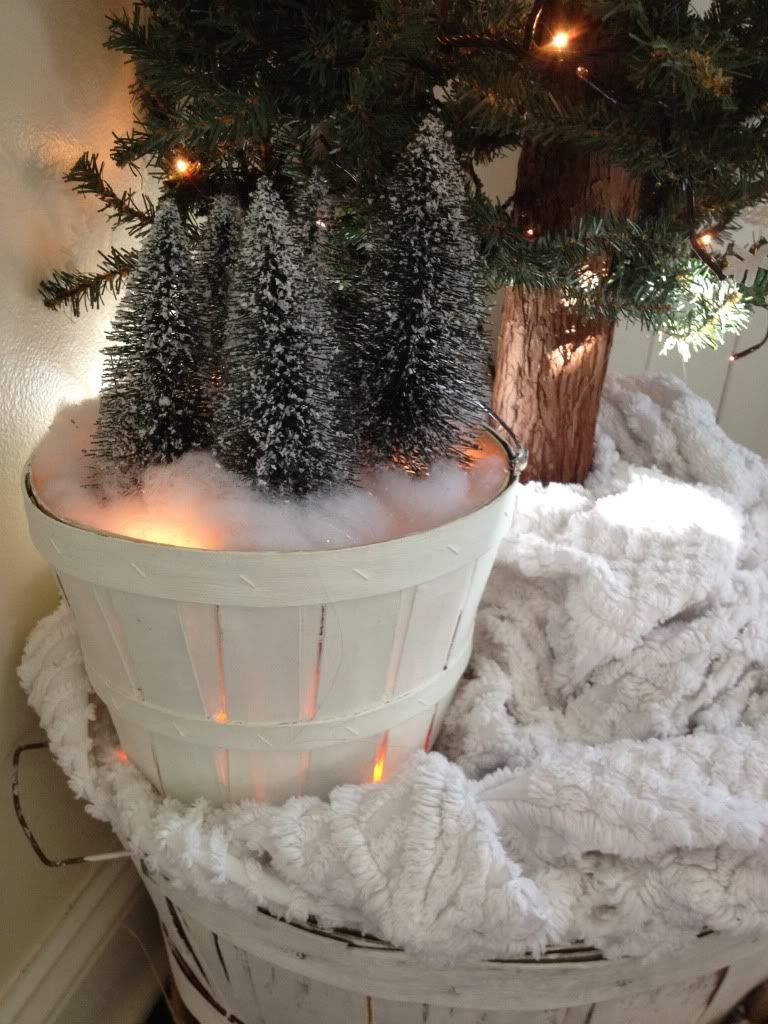 but for now I have my own snow covered pine to last through January. I simply transformed my Christmas tree to a winter tree in order to ease the post-Christmas decorating blahs.
I've removed all the reds and traditional Christmas decor, but I kept touches of evergreen here and there. I especially love evergreen in ironstone.
The table is set for a winter tea with a bowl of vintage eye candy to enjoy...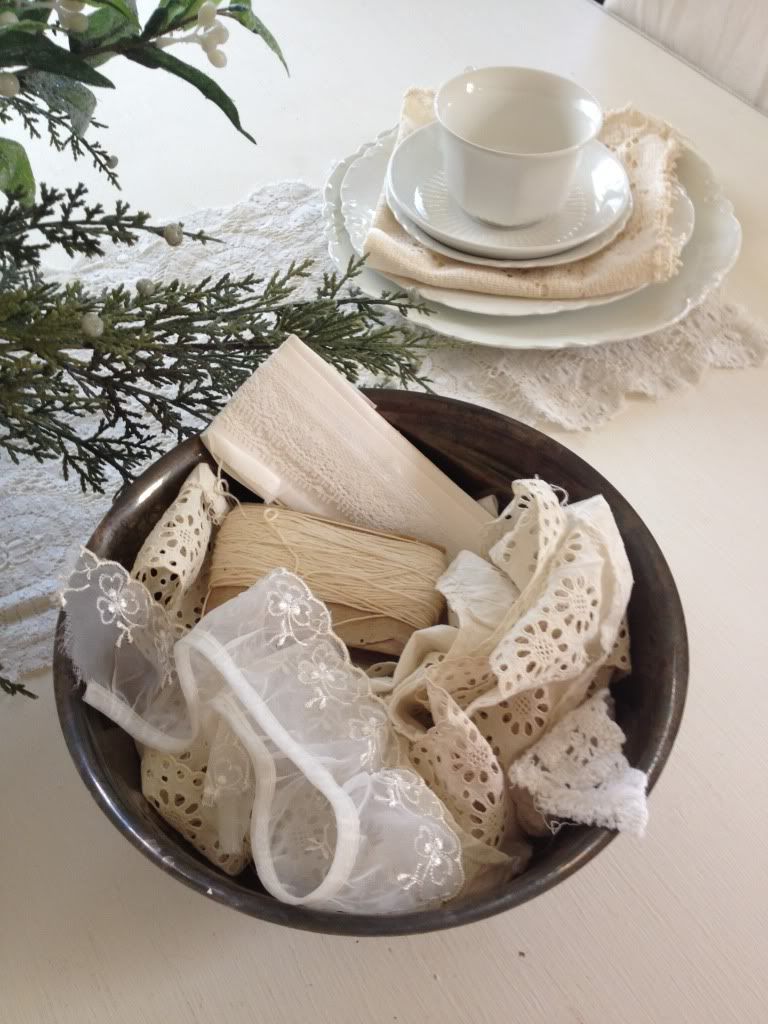 The centerpiece is an old wooden box filled with my favorite wintry mix of evergreens, vintage lace, antlers, a saucer depicting a winter scene, and the glow of a candle in a ball jar with epsom salt "snow."
I've been disappointed with old man winter thus far, so I've been reveling in the nostalgia of winters of long ago...
and I love playing with winter vignettes on the mantel...
I'm still waiting for the day when I can sit in this chair and watch the snow fall...
I've decorated all my nooks and crannies with snow and ice themes using silverplate, ironstone, white lace, doilies, silver bulbs and white beads.
And as always, I'm updating the decor with simple accessories, like this chevron pattern pillow in wintry gray and white.
Love winter nights...
Each winter night I relax by candlelight and enjoy the still calmness. Spring is still a while a way, so why miss the beauty of all that is white---the cold and crispness of the air, the introspection of silence, and the calm that winter provides? Even if it doesn't snow outside, the cold nights are perfect for family snuggling under warm woolie blankies, sipping hot cocoa or tea, cutting out snowflakes for the winter tree, and watching the forecasts in hopes for a snow day together. Its a time to renew spiritually and reflect on hopes, dreams and goals for the upcoming year. A time to declutter our minds and kitchen cabinets. And as February arrives, our hearts will flutter as the first crocuses break through frozen ground. But for now, if it must be winter, then LET IT SNOW!
Here's wishing everyone a happy winter and a wonderful new 2013!
2014 Parties:
Home Sweet Home Friday
Linking up:
http://thecharmofhome.blogspot.com/2013/01/home-sweet-home-104.html?utm_source=feedburner&utm_medium=feed&utm_campaign=Feed: TheCharmOfHome (The Charm of Home)