She's the fairest of them all...mirrors that is!
Last week I featured this beautiful mirror in my "Flea Market Finds" post. As I was working in my booth over the weekend, I decided the mirror deserved a little more attention and would be nice for White Wednesday and for the upcoming weekend blog parties. Isn't it amazing?
This art-deco style mirror is very unique and old, probably from the 1930's-40's. As a result the mirror is perfectly shabby, showing its age just as we vintage junkies prefer. It was hard to get a good picture due to lighting and reflections but I think you can tell that it is quite a wonderful piece. "She" is now gracefully displayed and for sale in my antiques booth awaiting her new home. The more I blog about this mirror, the more I think I am crazy to sell her! The statement, "to sell or not to sell, that is the question..." seems to be becoming a theme with all my recent blog posts about my junking finds!
I enjoyed creating this glitzy-retro display using gorgeous beaded shoes, white roses, pearls, beads, long leather gloves and vintage handbags along with the mirror. Its just a beautiful mix of whites, ivory, cream and silver.
She reminds me of a Hollywood star of the silver screen...
At some point in time someone decided to frame the mirror in a silver frame as you can see in this picture. Originally it probably had no frame and was a flat mount mirror with the little clear mirror brackets. I spoke with another antiques dealer who specializes in framing and she felt that the framing was done later, possibly in the 60's or 70's. It was definitely a professional framing job, as the company's name and location is stamped on the back. The framing was done in Brooklyn, New York. If I decide to keep the mirror, I will probably have it reframed in one of my antique wooden mirrors painted white.
I worked with the lighting on my photo editor and I was able to isolate the outline of the figure to make it appear as if she is suspended in air. So graceful!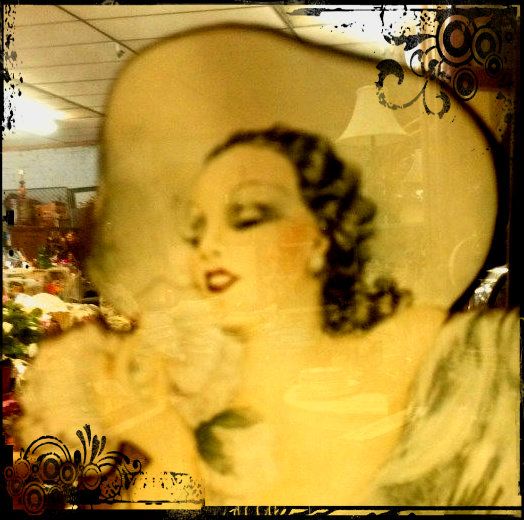 This mirror was so much fun to photo edit. I love the border I found on photobucket.
While working on this post I can't help but sing Madonna's
Vogue
"...they had style, they had grace...Beauty is where you find it..."
Don't you think this mirror would be perfect in a boutique store, formal dress shop or a little powder room? Oh, wait ---I know the perfect place---just above the dresser in my new shabby-romantic-inspired bedroom!
Have a beautiful week Darling!
Partying with:
http://knickoftimeinteriors.blogspot.com/
http://fadedcharmcottage.blogspot.com/
http://micheleravendesigns.blogspot.com/
http://thebrambleberrycottage.blogspot.com/
http://commonground-debrasvintagedesigns.blogspot.com/
http://frenchcountrycottage.blogspot.com/2012/05/feathered-nest-friday_10.html
http://romantichome.blogspot.com/